The counters haven't been updated in over 24 hours. I've added a new host onto the panel and it hasn't updated the mail usage nor has it updated the disk usage for files.


I ran v-update-user-counters and it hasn't updated with that either.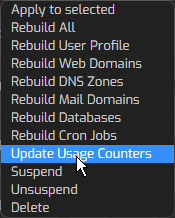 Tried this too and it still hasn't updated. Checked the CRONs and they're all there?