Hello, and happy holidays
How can use SSL certificate from Cloudflare? PEM,
I tried different variations but no luck,
I have followed this process (with RSA created by CloudFlare). I copied the RSA origin certificate and the private key and I paste under Edit Domain Page in HestiaCP. Also I paste the Cloudflare Origin CA - RSA Root in SSL Certificate Authority / Intermediate section. I have turn off the proxy of CloudFlare and I have set CloudFlare with Full SSL (Strict) and I see that my domain with https uses the previous created certificate but chrome shows me that this certificate is invalid. Is that correct? I do not understand what exactly doing the origin ssl but I am reading that is more secure.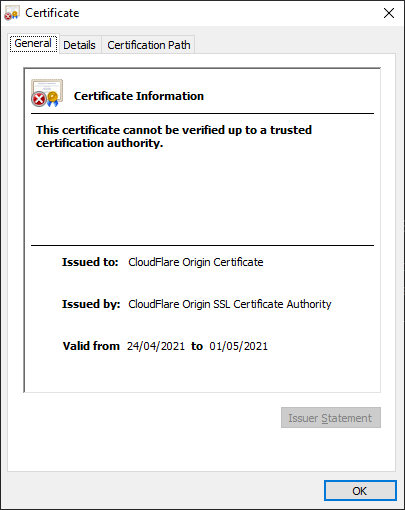 If you use the orgin certificate you always have to keep proxy enabled
So this origin certificate is only for connectivity and seciruty between Cloudflare and my server and will not be visible to visitors? Such as a self-sign?
Yes. If you need an public facing certificate use Lets Encrypt or an paid certificate
This topic was automatically closed 30 days after the last reply. New replies are no longer allowed.