Debian 10 "buster" released - https://www.debian.org/News/2019/20190706
When is support planned?

Hi Chupa
Thanks for your request: First steps are made to support debian buster, until now we've some issues with missing packages. Testing is underway, i think it will take around 2-3 weeks - but support is planed!
it is very good! This panel, the best that is now on the market among the panels. I think by the end of the summer we will get a brand new and great product, since debian 10 is very good right now. thanks!

how about iptables ? buster uses nftables by default.
yes by default nftables is use
but it is easy to switch back to iptables
https://wiki.debian.org/nftables#Current_status
which means hestia will have until 2022'ish to figure the switch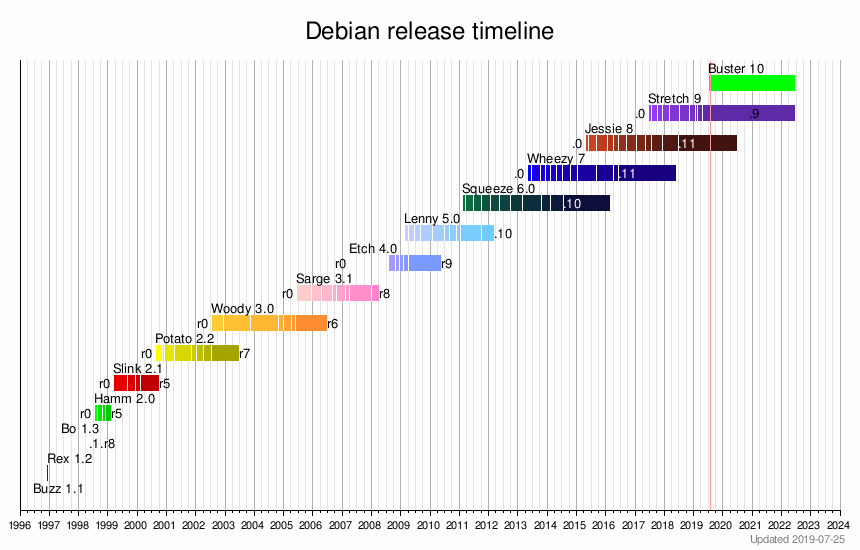 how to install on debian 10
it says :
Your operating system (OS) is not supported by
Hestia Control Panel. Officially supported releases:
---
Debian 8, 9
Ubuntu 16.04 LTS, 18.04 LTS
Currently not supported, support will follow with 1.1.0 release.
Hi, is there an ETA for debian 10 support?
Thanks!
Any update on Hestia 1.1.0?
Currently, there is no release date yet. Master branch (1.1.0) is quite stable, but needs further testing, which needs a lot of time.
@ScIT How to install the development build on Debian 10?
I cannot start with installing the latest stable build, as it's not supported by Debian 10.
Thanks. Just tried to use the install script from master instead of release, which seems to work.
    wget https://raw.githubusercontent.com/hestiacp/hestiacp/master/install/hst-install.sh

Just getting the following errors:
    hst-install-debian.sh: line 1211: /usr/local/hestia/bin/v-add-web-php: No such file or directory
    hst-install-debian.sh: line 1217: /usr/local/hestia/bin/v-add-web-php: No such file or directory
    (*) Installing ClamAV anti-virus definitions...\WARNING: Ignoring deprecated option DetectBrokenExecutables at /etc/clamav/clamd.conf:33
    hst-install-debian.sh: line 1773: /usr/local/hestia/bin/v-change-sys-theme: No such file or directory

Not sure if they're important?
@ScIT Seems like v-add-web-php and v-change-sys-theme are not in the /usr/local/hestia/bin directory.
Should I open an issue for this?
@ScIT I could not add another reply, so I will edit this one.
After continue with your procedure I get
Preparing to unpack .../debs//hestia_1.1.0_amd64.deb ...
Unpacking hestia (1.1.0) ...
dpkg: dependency problems prevent configuration of hestia:
 hestia depends on setpriv; however:
  Package setpriv is not installed.

dpkg: error processing package hestia (--install):
 dependency problems - leaving unconfigured
Errors were encountered while processing:
 hestia

So something seems to be wrong.
I was running
sudo ./src/hst_autocompile.sh --hestia "~localsrc" no
sudo su -
/home/debian/hestiacp/install/hst-install-debian.sh --with-debs /tmp/hestiacp-src/debs/ --force -a no -w yes -o yes -v no  -g yes -r 8383 -s mail.***** -e [email protected]***** -p ******* -l en

There is no need to open a issue report, because this arent any issues. Please use the guide i sent you above, you will need to generate a custom deb package for hestia on master branch, which will include the missing commands.
@ScIT,
Are you going to release hestia 1.1.0 for Debian 10 with iptables by default?
Will there be an option to install hestia with nftables?
Since Debian 10 uses nftables by default and to be able to use country-specific IPv4/IPv6 network ranges for geo IP blocking iptables is not the best choice I guess.
I'm still using vestacp on Debian 10 and with nftables / fail2ban with Geo IP sets to avoid access to my server from specific countries.
It would be great it would be easily possible to do it with hestia, too !
By the way, I am testing hestia 1.1.0 Beta and can't await the release!!
Keep up this great job!
I just had a quick look at the script you linked and it seems that this is creating IP sets for both nftables and iptables/ipset. did not read the descirption yet nor tried, but I'd guess it works if you just install ipset along with hestia on iptables instead of nftables

maybe you wanna have a look into this alternative https://github.com/trick77/ipset-blacklist for iptables/ipset (this is what I am using for quite some time)
also the firehol project provides lots of blocklists that can be used with that script, including geographical ones https://github.com/firehol/blocklist-ipsets
@falzo,
Thank you very much for your input.
This sounds good. I will check both links.
Version 20.10 of Ubuntu just shipped with nftables as default. Thought I'd give you a headsup as it will probably impact the whole firewall setup.