Good day,
While delving into the work of the HestiaCP pre-existing panel, I had a small question. How to work with DNSKEY record?
When I create a new post, either through API requests or through the web interface. That record is added without remarks exactly in the form in which I entered it.
For example it looks like this:

And in the end, the record looks like it was written:
But when I enter the record again, and press save, a dot will be added at the end
I noticed that the dot is added when I change the record using the api using v-change-dns-record while from the web interface the dot is not always added at the end.
If you have information on how to manage such records, please pass on such information.
Here you can see the full animation where WHMCS communicates with the HestiaCP server using the API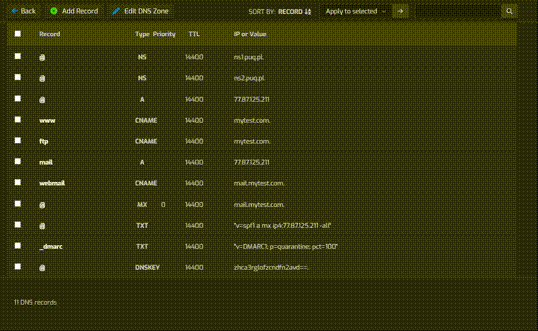 Unfortunately, I had to compress the animation to fit within the allowed four megabytes for uploading to the forum.
Thank you.