I've created a post upon installing php 8 in cp, Hope this helps

Or just wait for official support…

Fix php 7.2 and php 7.3 when you install via gui or cli. The plugin opcache.so is never detected, gives error while installing the php.
@amadex can't follow what you mean?
If you go to ssh and type e.g. "v-add-web-php 7.3" then you will get output error that opcache.so cannot be found bla bla.
Happens on Ubuntu 20.04 and Debian 10.7 (KVM).
Also the multiphp flag for fresh install will do something wrong with opcache, starting from php version 5.6 and others.
Let me create one VM and I will update this topic with screenshots.
Please create a bug report at Github please.
At the forum it will get lost
I don't have github acc, maybe you can do it for me if you're not lazy?

Here is screenshot where "1" is multi-php flag while install, also the "2" is php-fpm7.x status where you have problems with .so files. Happens on Ubuntu 18.04, 20.04, Debian 10. Sometimes problem is with apc.so, and sometimes with opcache.so

Also I've tested this using VM images from differents providers (VirMach, Liteserver.nl, PHP-Friends.de).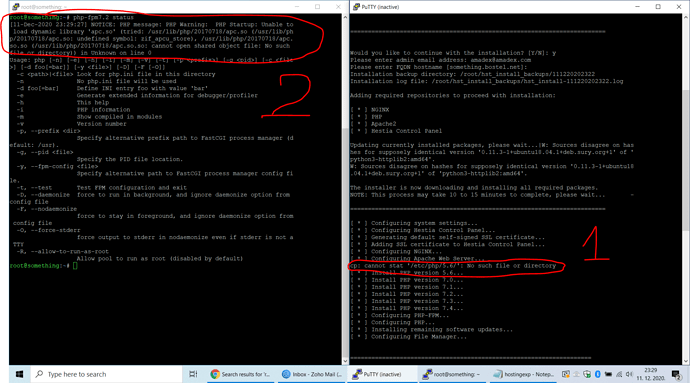 this seems error with your server, you can try uninstalling php 7.2 from hesticp multi php manager then install again.
It's clean a install on mulitiple VMs. Bug is on Hestia side.
Done as describded. Works just fine but many WordPress sites are with errors: js_composer, elementor and other WP plugins are not ready for php-8.0. Anyway thanks!
No need to do like that, hestia 1.3.2 which has been released a few hours ago has brought you official php 8.0 support…