I have the same error as discussed many times, e.g. in forum.hestiacp com/t/unable-to-get-ssl-for-hestia-cp/8248/10
Situation
I tried everything I found to no avail, the issue persisted throughout the last weeks, through restarts of the VM and nginx, with no apparent errors.
It happens for all new domains and some current ones, but even within a single user there are domains that error out and some that work.
There is no Cloudflare proxying.
The issue occurs both from CLI and Web UI, e.g.:
v-add-letsencrypt-domain owner DOMAIN
Error: Let's Encrypt validation status 400 (DOMAIN). Details: 403:"HESTIA_IP: Invalid response from http://DOMAIN/.well-known/acme-challenge/QsqBVN6pyV9QeFohNmJmzKRyI4z3dYW_XbPhRivb1UI: 404"

Debugging
I plowed through:
github com/hestiacp/hestiacp/issues/1509
forum.hestiacp com/t/lets-encrypt-ssl-error-error-lets-encrypt-validation-status-400-domain-com-details-403-my-ip-invalid-response/7651>
According to https://docs.hestiacp.com/admin_docs/web/ssl_certificates.html#error-let-s-encrypt-validation-status-400 I checked /var/log/hestia/LE-owner-DOMAIN.log which contained
details: Unable to update challenge :: authorization must be pending  

letsdebug reports no problems
According to https://docs.hestiacp.com/admin_docs/settings.html I enabled DEBUG_MODE and checked the logs, but did not get anything out of theat, see below.
Logs
This is an extract from lnav /var/log/hestia, maybe something unusual here: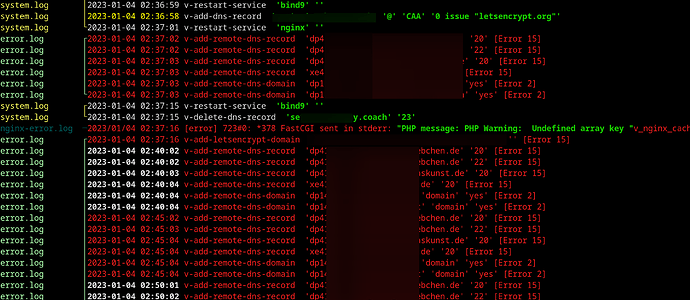 I am a little bit confused about all the failed added records and domains, because we did not add any except the one with letsencrypt.