Hello, I'm kind of new to hosting setup, specially to HestiaCP.
I'm trying to setup a store, so I need SSL for payment stuff. I installed Let's encrypt software and HestiaCP on my vps, and it was fine.
I set it up yesterday, and it worked correctly for a while, but today it doesn't.
The only thing I changed was Hestia panel and SSH ports, but didn't touch anything related to SSL, as far as I understand. Not even DNS related things.
Thing is, I have 2 domains there, and both have activated SSL and LE on the panel, I can see the certificate, key and related information on the panel, pulled by Hestia, automatically. But when I load my website on a tab, it loads just fine if I use "http://domain.tld"; but if I use "https://domain.tld", it can't reach the site.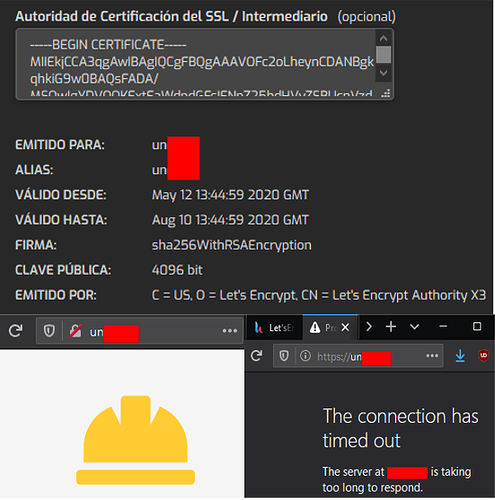 Could anybody give me a clue about this?