How can I avoid this from HestiaCP?
This is nothing hestia can help out, you'll need to know why you got blacklisted and check the exim mainlog for any unnormal activity like user or scripts that ships spam from your server. That's the point where you dig out your sysadmin skills to analyze and solve the issue

.
which level in barracuda?
depending on that your IP is most likely just part of a bigger subnet they are blocking because amount X of the IPs has been seen sending spam. so could just be bad neighbours and also depending on your provider.
anyway IP reputation is not much hestiaCP itself can do anything about, it comes down to every server admin and provider itself to take good care…
Thanks for answering,
I really don't know what level
I have the linode service, and they tell me that I must configure reverse DNS, and they do the process with Barracuda, to remove the IP from the list.
The thing is, I have that set up, and they haven't answered me if it's okay or not.
I have it as follows.
45.79.xx.xx - 45.79.xx.xx - li1295-xx.members.linode.com - Public
Do you know if that's okay? or should I change this li1295-xx.members.linode.com
the level in barracuda blocklist can be seen, when looking up your IP https://www.barracudacentral.org/lookups
apart from that, obviously you'll always require a reserve DNS entry, yes. but you often can't set or change it yourself. dunno how linode handles that.
you could use https://mxtoolbox.com/ for instance to check on settings for your domain and IP.
however - barracuda is not used sooo often, especially because they simply block full ranges etc. so maybe check, if you need to worry about that at all.
PS: totally forgot, IP blocks on barracuda are removed automatically after a few days, if their is no more spam originating from it (or its neighbours), so chance are problem will resolve itself in a few days from now…
Thank you again for your help
this comes out in Barracuda.
The IP address 45.79.xx.xx is listed as "poor" on the Barracuda Reputation System. To request removal, please.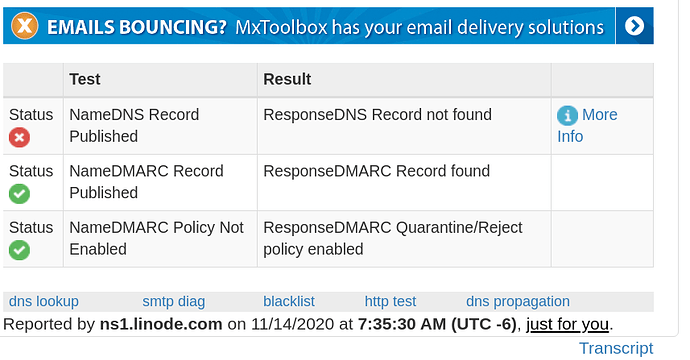 rDNS should match your domain name, not the generic linode one. Basic stuff.
still any resolving rdns record is fine for starters. so as long as the linode-domain resolves to that IP rDNS is most likely not the problem.
I just saw that barracudacentral seems to have changed their lookup form response and there no details anymore… from what I remember they have at least three levels of block you can run into and from level 2 on that's based on blocking subnets and not only single IPs. sadly it seems, one can't see that anymore.
the mxtoolbox output suggest, that there is something else off with the dns record for ???
as posted above I don't think there is anything on your end you can do about the barracuda listing right now. the IP is listed in some minor other blacklists as well, so the 'poor' reputation seems to be feasible.
how long do you have that server/IP?
and btw: please do not post your full IP publicly, this could potentially make you a target for ddos or hackers etc.
DNS should match your domain name, not the generic linode one. Basic stuff.
What happens is that there is more than one domain
how long do you have that server / IP?
Little more than a month, let's say 2 months
and btw: please do not post your full IP publicly, this could potentially make you a target for ddos or hackers etc.
Thank you for this