Good day
Is it possible to replace PMA with lightweight Adminer (adminer.org)?
Hi
You can install it on your own if you want, currently, there is no hestia side implementation for adminer.
In fact, no special installation is needed. You can just drop the .php file at https://[Server FQDN]/adminer.php and thus make it available to all users of the server.
Could you please give more details? In which path on server I have to place that php script? And how can I add a link into CP?
Welcome to the forum @LazyGatto
Amongst pile of custom features I bundled Hestia CP with - am using Adminer instead of phpMyAdmin and prefer RainLoop over Roundcube.
I recommend to alter Hestia CP system/user templates as I did. Currently I have about 80 custom templates to satisfy all clients' needs. This way, you can access Adminer from 3rd level domain specific for each client.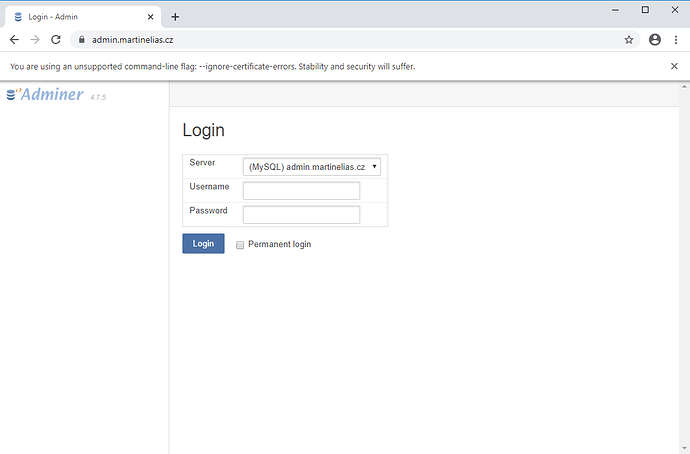 FYI: You will not be able to access my Adminer unless you use WireGuard VPN (in my case).
Would you mind sharing those templates?
Github repo would be ideal.
Nechce sa mi to úplne robiť samotnému, keď už spravil/vykopol.
Welcome @lebaux

If you'd like to opt for Adminer instead of phpMyAdmin, it's enough just to uninstall it and disable respective nginx config files in "/etc/nginx/conf.d/", eg. by appending ".disabled".
Recently, there was needed customization per each client, hence I chose to create "admin" subdomain per each client's domain using Hestia CP.
If you rather prefer changing nginx config templates or Hestia system ones, you can take a peek at the [How-to] RainLoop in Hestia CP tutorial how to achieve this…