I'm trying to add a test version of my site with Let's Encrypt SSL support.
I'm using CloudFlare for the root domain, and the subdomain is proxied through CloudFlare.
In Hestia, I have a Web Domain for the main site (domain.com), and a second Web Domain for test.domain.com.
In the Edit Web Domain settings for the test subdomain, if I try to tick 'Use Lets Encrypt to obtain SSL certificate' and Save, it tells me 'DNS record for test.domain.com doesn't exist'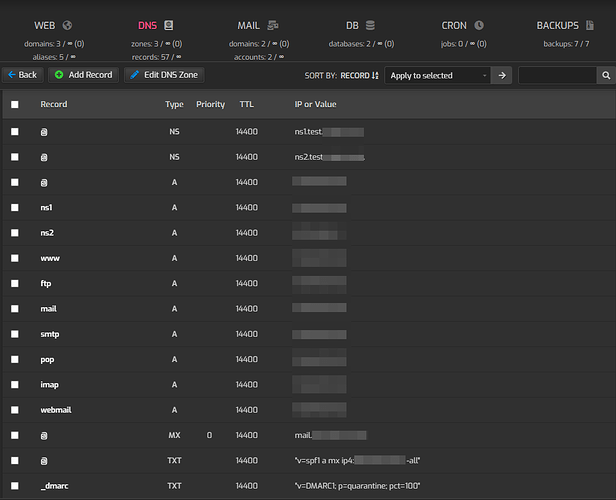 If I dig the subdomain I get the response:
id 25526
opcode QUERY
rcode NXDOMAIN
flags QR RD RA
;QUESTION
test.domain.com. IN A
;ANSWER
;AUTHORITY
domain.com. 1617 IN SOA aida.ns.cloudflare.com. dns.cloudflare.com. 2276727314 10000 2400 604800 3600
;ADDITIONAL

And nslookup test.domain.com returns 'Non-existent domain'
I'm a bit crap with DNS configuration, not sure what I need to do to get it working.
Some help would be appreciated.
Thanks.
EDIT:
Also worth noting Cloudflare is serving its own SSL certificate, the 'SSL/TLS encryption mode' is set to Full (Encrypts end-to-end, using a self signed certificate on the server)
But I also have a websocket server that requires a non-proxied subdomain to work, which serves my site's Lets Encrypt certificate.