i am unable to access the control panel via cloudflare . everything is working if i use ip:port to access the control panel.
i have added cloudflare root cert to ca-certificates and updated
i have added cloudflare origin ceritificate.
i have setup SSL/TLS encryption mode is Full (strict)
i am able to access via https://ip:port and could verify ssl cert to be CloudFlare Origin Certificate.
using port 2083.
bash hst-install.sh --apache no --phpfpm yes --multiphp no --vsftpd yes --proftpd no --named yes --mysql yes --mysql-classic no --postgresql no --exim no --dovecot no --sieve no --clamav no --spamassassin no --iptables yes --fail2ban yes --quota no --api no --interactive yes --with-debs no  --port '2083' --hostname 'hestiacp.xyz.example.tld' --email '[email protected]' --password 'password' --lang 'en'   

still getting error
This site can't provide a secure connection
hestiacp.xyz.example.tld uses an unsupported protocol.
ERR_SSL_VERSION_OR_CIPHER_MISMATCH
Unsupported protocol
The client and server don't support a common SSL protocol version or cipher suite.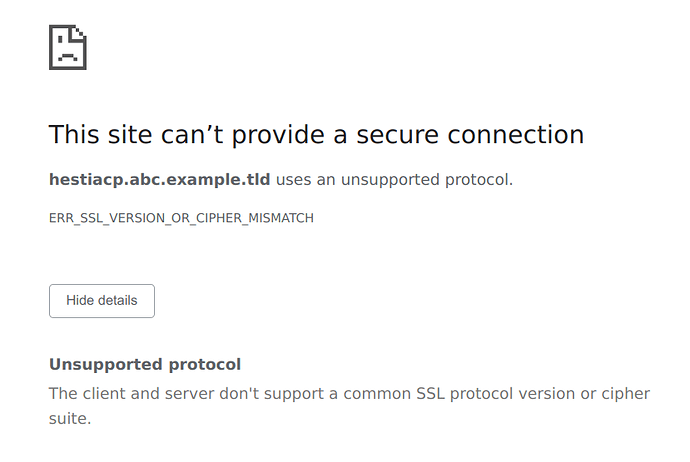 any soluton to this problem would be helpful.