Hello, i successfully installed the server with multiphp,
i can choose easily the php version from 5.6 up to 7.3 which is default. <- very good!
now im at the point to rewrite my existing nginx templates, for Magento1 Magento2 Wordpress and Typo3.
Of course if have installed Multiphp because i want to assign the right php-package for the right web software.
Magento 1 i ran with php 7.0 (i know it now can go up to 7.2 but i do not want to test so short before migration to m2)
magento 2 should be installed with php 7.2
typo3 i need 7.0 perhaps it works with 7.2 too depending from my version
and finally wordpress . there i have the newest one installed and i think i will go with 7.2 perhaps 7.3 if template supports it.
ok the questions are: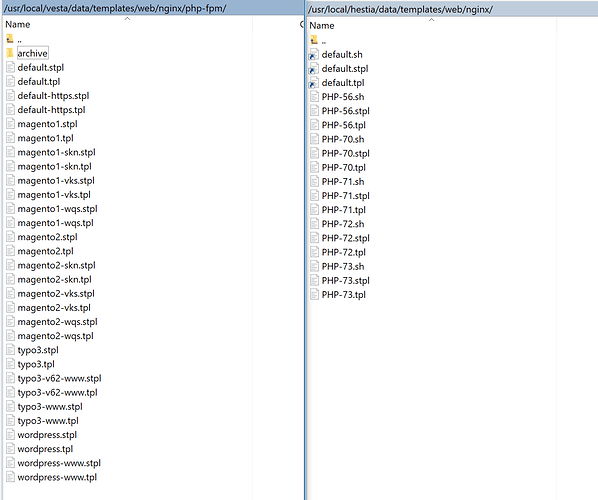 im familiar with .tpl .stpl, new for me is .sh, now you have those three files within one directory
Should i make now 3 files for each "software combination"?
decide what php, and combine for example magento.tpl, magento.stpl, magento.sh (with php7.2 inside)

i already have working nginx templates which i have used until now
are there any already converted templates out there?

do i understand right that when im finished i have a dropdown where i can select nginx template
DROPDOWN
magento2 - with php 7.2
magento1 - with php 7.0
wordpress - with php7.3?
or is the thinking different where i have 2 dropdowns
DROPDOWN1
magento1
magento2
wordpress
DROPDOWN2
php7.0
php7.1
php7.2
how should i proceed?
UPDATE:
i found the "original hestia nginx templates"
under
/usr/local/hestia/install/deb/templates/web/nginx/php-fpm/
as you can see the templates are not outside there … they are inside