Bit of a weird one here. SSL was working fine with LE, but now the certificate expired.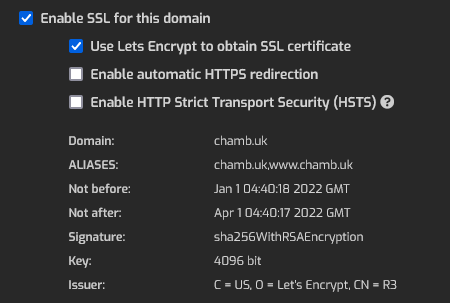 If I manaully run:
sudo /usr/local/hestia/bin/v-update-sys-hestia-all
All I get in system.log is:
2022-04-11 07:29:54 v-restart-service 'nginx' ''
It was working ok - so not sure if an update broke it, or something else?
FWIW: I needed to get this domain back up ASAP (as it was showing a security alert to people). So disabling SSL, then re-enabling it seems to have worked. Still confused as to why it didn't auto renew like it always has in the past. Any suggestions would be appreciated