Hello guys,
Have been trying for a couple of days to complete remote backups to a B2 bucket, unsuccessfully.
The /backup folder keeps getting filled with tmp folders like tmp.zx3w54G8nb until eating all my free space, and finally aborting with a not enough diskspace available to perform the backup email repeating every 5 min.
Noticed many of such tmp folders contain like the same folder structure and domain_data.tar.zst file inside, so I suspect they're the same
In /var/log/hestia/backup.log, there's a text block about the backup ending with a summary line telling Error: b2 failed to upload user.2022-03-14_08-20-23.tar, and then the log block repeats itself all over again to the same error.
Have stopped the backups and email nagging by pausing the cron job v-update-sys-queue backup
As a side note, have been able to rclone copy VPS stuff from the command line to the B2 bucket just fine.
Regarding backup configuration, looks like below. Notice the Application Key was entered, but it's never displayed: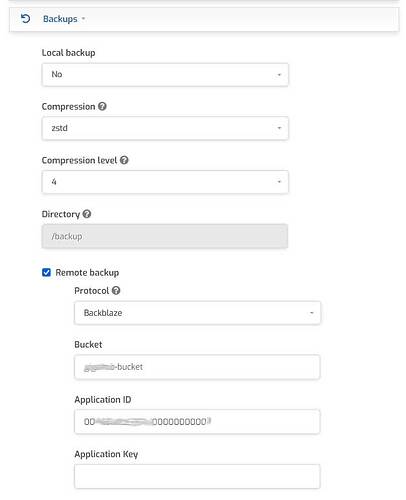 My questions to you, if you're so kind:
Why does b2 failed to upload seems to start the backup job all over again? A bug? Redundant entries in some queue from previous attempts?
If the latter, where are these redundant entries located, so I may get rid of them? I see nothing meaningful in /usr/local/hestia/data/queue/backup.pipe, for example
Why is the B2 bucket upload giving me issues? Read in some older post about symbols like +, # in the applicationKey were an issue at the time. Mine indeed has a +. Is this still an issue?
Thanks!
EDIT:
When hitting Local backup = yes, the backup finally finishes successfully, but only locally. Now there's more info in debug.log though:
ERROR: Missing account data: 'NoneType' object is not subscriptable Use: b2 authorize-account or provide auth data with "B2_APPLICATION_KEY_ID" and "B2_APPLICATION_KEY" environment variables
Anyway, whatever the key error above actually means, it seems there's an inconsistency in the remote backup process with Local backup = no; the tar files should be created and stored locally first, and then after upload to B2 get deleted.